Construction Materials Testing
GTS provides laboratory and field testing of soils, concrete and masonry, asphalt, fire resistant materials, structural steel, CMU walls, and more. We can also provide construction observation.
Laboratory Soil tests performed
Standard and modified proctors ASTM D698, ASTM D1557,
AASHTO T99, AASHTO T180
Atterberg limits ASTM D4318, AASHTO T89, AASHTO T90
Sieve analysis ASTM D6913, AASHTO T27
Hydrometer ASTM D422, AASHTO T88
Specific Gravity and Absorption AASHTO T100
California Bearing Ratio ASTM D1883, AASHTO T193
Unconfined Compressive strength ASTM D 2166, AASHTO T208
Triaxial testing ASTM D2850, ASTM D 4767, ASTM WK 3821,
AASHTO T296, AASHTO T297
Soil Consolidation ASTM D2435, AASHTO T216
Flex Wall Permeability ASMT D 2434, AASHTO T 215
Sand Equivalency ASTM D 2419, AASHTO T176
Aggregate Soundness Testing ASTM C88, AASHTO T96
LA Abrasion ASTM C131, AASHTO T96
Deleterious Material Determination
One Dimensional Swell Test ASTM D 4546, AASHTO T216
Soil Stabilization Mix Designs
Compressive strength of cylinders, cubes, prisms and cores
ASTM C 39, ASTM C 42, ASTM C 1019, ASTM C 109, ASTM C140
Bearing Capacity Observation
Proofroll Observation
Retaining Wall backfill Observation
Straight Shaft Drilled Pier installation Observation
GEOPIER installation observation
Soil Nail Installation Observation
Micropile installation observation
Laboratory Concrete and Masonry Tests Performed
Compressive strength of cylinders, cubes, prisms and cores ASTM C 39, ASTM C 42, ASTM C 1019, ASTM C 109, ASTM C140
Flexural Strength of Beams ASTM C 78
Petrographic Analysis of concrete samples ASTM C 457 – Available via subcontract
Compressive strength testing of lightweight insulating concrete ASTM C 495, ASTM C 513
Laboratory Asphalt tests performed
Bulk Specific gravity AASHTO T 166
Thickness
Aggregate Gradation ASTM D6913, AASHTO T27
Extraction and Gradation of core samples ASTM D5444, AASHTO T30
Laboratory Sprayed on Fire Resistant Material Testing
Field Soil evaluation or testing
Soil or Aggregate Density Testing ASTM D6938, AASHTO T310
Field Concrete and Masonry tests performed
On site sampling of freshly mixed concrete ASTM C31, C143, C172, C231, C1064, AASHTO T23, T119, T141, T152, T309
Unit Weight of Concrete ASTM C138, AASHTO T121
On site sampling of grout ASTM C1019, C143, C1064, AASHTO T23, T119, T309
On site sampling of mortar ASTM C1714
Schmidt Hammer ASTM C8805
Concrete maturity testing
Mass concrete temperature testing
Floor Flatness Determination ASTM E 1155
Vapor Emission Testing ASTM F1869
Relative humidity Insitu Probe Testing ASTM F2170
Concrete Ph testing
Concrete mortar time of setting ASTM C403
Crack monitoring
Field Asphalt Testing
Rolling pattern determination during placement
Coring and cutting samples for testing 
Field Sprayed on Fire Resistant Material Testing
Thickness and density testing of SFRM ASTM E605
Adhesion Testing of SFRM ASTM E 736 
Structural Steel Inspection
In house Certified Welding Inspector
Weld procedure and welder performance qualification
Field and Fabrication Shop Welding inspections
Visual inspection
Liquid Penetrant inspection – inspection method used to locate surface-breaking defects in non-porous materials using capillary action to draw the penetrant into the cracks.
Magnetic Particle inspection – process for detecting surface and subsurface discontinuities in ferroelectric material using magnetic fields and small metallic particles
Ultrasonic Inspection – Ultrasonic nondestructive testing is an established method of insuring the integrity of structural welds by being able to identify cracking, porosity, incomplete penetration, inclusions, lack of sidewall fusion, and similar defects that can compromise weld strength by using sound waves.
Skidmore Wilhelm Bolt Tension Calibrator – for calibrating fasteners and tools on the job site
Proto Torque multiplier – 2200 ft/lb torque multiplier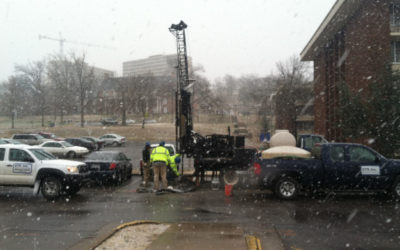 Geotechnical Drilling, Sampling and Field Testing A Geotechnical Engineering report provides general information regarding subsurface conditions at a project site. The Geotechnical report is based on subsurface conditions encountered at discrete sample...
read more
GTS has completed hundreds of Phase I Environmental Site Assessments (ESAs) for commercial clients throughout Arkansas, Louisiana, Kansas, Missouri, Oklahoma and Texas. In addition, we have conducted follow-up Phase II ESAs at many of these sites,...
read more